Details
Big Price Reduction on this Safari and Mac Compatible 16 Channel DVR that records at 960H resolution in Real Time. Now with a 2 Year Warranty as of April 2013.
This is the cream of the crop when it comes to 16 camera digital video recorders. This high end DVR displays and records each camera in Real Time 30fps (frames per second) at the highest resolution possible for a CCTV DVR at 960H (960x480 pixels) or D1 resolution (720 x 480). You can pack this DVR full of storage space, it supports up to 16 Terabytes of hard drives, that means you can install up to Eight x 2TB hard drives and record for months of video. If you need a DVR that is suitable for license plate cameras, and want the highest quality video possible, then this is the DVR for you.
This DVR has 16 BNC video inputs as well as 16 RCA audio inputs for your audio cameras or microphones. For video outputs, it comes with one Full HD HDMI 1080p output, two BNC video outputs (one for monitor and one for spot), one VGA output to connect any VGA LCD monitor or computer monitor. It also has one RCA audio output to listen to audio that you may be recording.
You can expect the best from this DVR when it comes to remote connectivity. It supports remote login over the internet using Internet Explorer on any Windows or Apple based computer, and supports the iPhone, iPad, Google Android phones and tablets.. For video backup you have several choices. You can either save to a USB flash drive using the USB port on this DVR, or download video over the internet using your web browser. Best of all the video is playable on any computer.
Of course, let's not forget this DVR has built-in video motion detection capabilities. You can select cameras and set sensitivity levels and areas within each camera where you want this 16 channel DVR to monitor for motion. This way you can record on motion and save hard drive space, and also instruct the DVR to alert you via email or send a push alert to your phone when motion is sensed. Besides motion triggered recording, you can set schedule based recording to record on set day and time, or manual recording. If you want to get really fancy, you can even tie in motion sensors and other alarm sensors to trigger recording.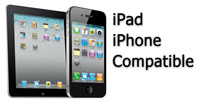 Features
16 Camera and 16 Audio H264 Digital Video Recorder
Standalone DVR recorder that does not have to be connected to a PC
Pentaplex function DVR
Simply connect your cameras and connect a monitor or TV and you are set
Supports up to Eight 2 TB Hard Drives for a total of 16 TB of Storage Space (when configured without DVD Burner)
960H Resolution Recording and Display - Records at the highest resolution video in the industry
Real Time Video Viewing and Playback without any choppy video
Easy to use graphical interface that can be used with the included mouse point and click operation
HDMI and VGA monitor output to connect any computer monitor or large screen display
Remote viewing and playback over the internet using any Web Browser
Apple Safari Friendly
Supports iPhone, iPad, Android Phones and Tablets, Black Berry, Nokia Symbian, and Windows Mobile based phones
Motion activated recording
Calendar and time based recording
Alerts via email when motion is triggered
Comes with a Central Management software to manage up to 20 DVRs from one location
Dynamic DNS support so static IP Address is not necessary
Video back up over USB to a FAT formatted flash drive
External storage backup via E-SATA
User access management with right management for each user
Log management to monitor the health of the system
FTP file upload on motion detection or alarm trigger
RJ45 Ethernet network port on the back of the DVR that you connect to your router or Cable/DSL modem to place the DVR online
Includes:
1x 16 Channel DVR
1x Power Supply for DVR
1x USB Mouse
1x User Manual
1x Software CD with instructional manual and CMS software
1x Handheld remote control
Specifications:
Compression format
Standard H.264 Baseline
Video
Input
Composite: BNC ×16; 1.0Vp-p/75Ω
Output
Composite: 2x BNC, 1.0Vp-p/75Ω
High Resolution VGA: 1280×1024
HMDI: 1080P (1920×1080 )
Record Resolution
352×240 or 704×480 or 960x480 (NTSC)
Frame Rate
Display
480fps (NTSC)
Record
480fps (NTSC)
Playback
480fps (NTSC)
Audio
Input
RCA×16
Output
RCA×1
MIC
RCA×1
Alarm
Input
16CH
Output
4CH
Recording Mode
Manual, time/calendar based, motion activated, alarm sensor based
Pentaplex Function
preview, record, playback, backup, remote access
Network Interface
RJ45 10M/100M/1000M Ethernet
PTZ
YES RS485
IR controller
YES
Communication Interface
RS485, USB 2.0 x 2
HDD
Internal: SATA x 8
E-SATA x 1 - for Backing up video
Power Supply
110-230V
Dimension
17" x 17.72" x 3.55" (WxDxH) approximate