Details
Interior or Exterior: Control all of your camera movements with our unbelievably inexpensive Pan & Tilt! With the supplied control box, you may rotate your camera up to 355 degrees (right, left) and also receive a 60 degree up angle or a 60 degree down angle! Simply press the appropriate button on your control box and then watch your camera change its view automatically. It's that simple! Now if that's not enough, what about those times you would rather sit back and watch the camera Pan by itself? Done! It includes and Auto-Pan function. Simply press the "Auto" button and your camera will rotate clockwise and then counter-clockwise automatically! Is that slick or what?!? Stop the Auto-Pan by pressing the button once more and then redirect your camera to look in the direction that's requiring attention. Interior unit weighs only 2 lbs. and Exterior unit weighs 5 lbs. Able to be mounted on wall, ceiling or a simple flat surface. You'll not find another motorized Pan & Tilt with Control box (of any type) anywhere for a price as low as this! Enjoy!! 60 Day Warranty!
Includes motorized Pan & Tilt Motor, Pan and Tilt Control box for 1 Turning Device, 100ft of Twisted Pair CAT5 Data Cable (for use between Pan & Tilt Motor and Control box).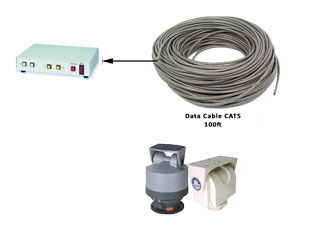 Note: You can purchase longer cables by making a selection above before adding to cart.
Interior Pan Tilt Motor Specifications:
Rotate Angle:

Pan: 350°
Tilt Up 60° Down 60°

Rotate Speed:

Pan: 5° per second
Tilt: 3° per second

Maximum Camera Assembly Weight: 7 lbs
Power Supply: 24V AC Screw Terminal Ends for electrical wire, plugs in to wall outlet
Working Ambient Temperature: -25°C to +60°C
Input Power: 24V AC 0.083A
Data Connection Interface: 6 cable inputs from twisted pair cable ends
Dimension: 7.71 inches Height, 4.53 inches Diameter
Weight: 4.2lbs
Exterior Pan Tilt Motor Specifications:
Rotate Angle:

Pan: 350°
Tilt Up 60° Down 60°

Rotate Speed:
Maximum Camera Assembly Weight: 15 lbs
Power Supply: 24V AC Screw Terminal Ends for electrical wire, plugs in to wall outlet
Working Ambient Temperature: -25°C to +60°C
Input Power: 24V AC 0.96A
Data Connection Interface: 6 cable inputs from twisted pair cable ends
Dimension: 8.93 inches Height, 7.72 inches Diameter
Weight: 16.6lbs
You may also be interested in the following product(s)