Details
This is a Super Wide Dynamic Range version of our famous 2470AVAW Vandal Proof Dome Camera. This is the highest resolution CCTV dome camera on the market. It has the newest SONY Image Sensor that provides 700 TV Lines of Resolution. It has 36 high intensity infrared LEDs for night vision for up to 100ft away from the camera, and a very low lux image sensor that will allow you to see in color in low light. You can manually adjust the lens at time of installation from 2.8mm for a wide angle view of 90 degrees or set it all the way to 12mm for a 4.5x zoom to see objects that are 60ft away and farther. This is not your ordinary dome camera because of the WDR and image sensor that it has. The camera also has a on screen display menu that you can control with the button located on the camera cord to change several camera settings. The camera is Vandal Proof so it can withstand a hit from a rock or bat. It has a 3 axis bracket that lets you position the camera virtually any way you want.
The WDR function allows you to see clearly in extreme lighting conditions where there is glare on the camera, for example the snapshot below shows the difference between a regular camera and this WDR camera.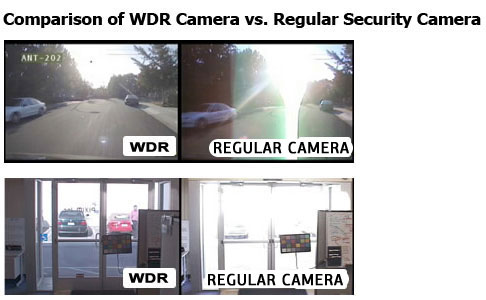 Features:
Vandal Proof Indoor Dome Camera
Metal Construction
SONY CCD Color Camera Sensor
Super WDR Function to minimize glare
Day and Night Camera
Indoor Camera
36 Infrared LEDs - 100ft Maximum Night Vision
1/3" Sony CCD Image Sensor provides crisp 700 TV Lines of Resolution
0 Lux Rating with Infrared On
0.001 Lux with Infrared Off so you can see in color in very dim environments
Adaptive Tone Reproduction (ATR)
2D and 3D Digital Noise Reduction (DNR)
Manual zoom lens adjustable 2.8 to 12mm Zoom Lens
Easily mount and position the camera at virtually any angle
Camera Cable has joystick to control the On Screen Display Menu to set various camera settings
Bracket with pass through cabling to protect cabling from vandalism
Comes in white color
BNC Video Output for Video
DC 12V power input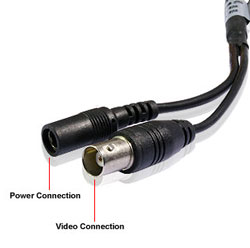 Includes:
1x Dome Camera
1x 12V 500mA power supply
If needed, choose cabling from Product Options above.
Specifications:
Image Sensor
1/3" SONY Color CCD Day and Night with SuperWDR
Horizontal Resolution
700 TV Lines Color
Pixels
NTSC:768(H)×494(V)
Usable Illumination
0.001 with Infrared Off
0 Lux with Infrared On
TV System
NTSC
IR LED
36 Infrared LEDs
IR Series Distance
100 ft or 30 meters
Lens
2.8 -12mm Manually Adjustable Zoom Lens
Sync System
Internal
S/N Ratio
≥54dB (AGC OFF)
Gamma Correction
0.45
Video Out
Composite Signal BNC Output (1.0Vp-p, 75Ω)
Electronic Shutter Time
Auto: NTSC 1/60-1/100,000Sec
Operation Temperature
-10°C to + 50 °C, Relative Humidity 95% Max
Storage Temperature
-20°C to + 60 °C, Relative Humidity 95% Max
White Balance
Auto
Power Source
DC12V 500mA
Weight
2 lbs
Diameter
4.75 inches approximate (base of camera)