Details
Great for Video Capture. Use up to 64 cameras (webcams, camcorders, network IP cams, analog cards, or your PC desktop) depending on your computer's processing power. Capture JPEG snapshots or capture movies in standard AVI, advanced DVR, or leading-edge Windows Media file formats.
Meant for Video Security. Keep an eye on your home, place of business, cars, and valuables; watch your pets or your kids; monitor your nanny, babysitter, or employees. Watch your door for mail, packages or visitors. Use motion detection, audio detection, or capture continuously. Receive alerts via loudspeaker, e-mail, instant messaging, or phone.
Comes with Webcam ability. Overlay text and graphics. Use the built-in web server, or post to a website. Webcast using MPEG ActiveX, JAVA, or Windows Media.
Video Security Features
Use motion or audio sensing to trigger recording, or record continuously or periodically.
Overlay the current date/time as well as a logo or other information
Optionally record audio
Use a timer to determine when the system is armed
Images may be captured as either JPEG images, MPEG movies or Windows Media movies (full version).
Receive alerts via loudspeaker, email, instant message, voice phone call (with automatic redial), or external program/script
Run DiGiCam as a Windows service so that only you have control over its operation on a shared PC
All passwords are stored encrypted
Sample webcams
Caribou Hills Weather Cam - a narrow-band solution (updated only once each 1/2 hour) for maintaining a queue of images to illustrate weather conditions in Caribous Hills, Alaska.
The WLX Tower Cam - a radio station straddling two states uses DiGiCam to feed two websites with custom-branded images.
Windows PC System Requirements:
Pentium 4 or AMD Athlon 2GHz processor or better
1GB or more system RAM
Microsoft Windows XP, Server 2003, Vista, or Windows 7
Microsoft DirectX version 8.0 or better
One or more USB, DV (Firewire), or Network IP cameras, or an analog capture card.
4 MB or better graphics adaptor with DirectX support drivers
Cameras and Clips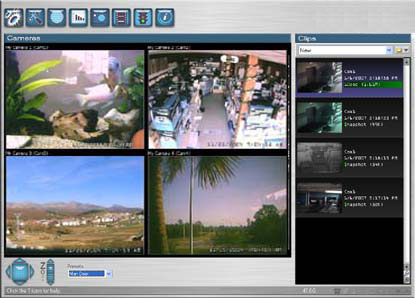 The initial view shows live views on the left, and a list of clips on the right.
Choose from equal video window sizes or one larger than the others
When you size the main window, the video images size with you.
Click on a camera view or clip to open it.
Use your mouse wheel to digitally zoom in and out.
A status bar at the bottom lets you know what DiGiCam is doing, and provides help when you pass the cursor over windows and controls.
PTZ (Pan Tilt and Zoom) controls are supported for some IP cameras
Organize your clips into folders, and automatically archive them to the web, or put them into storage.
The Clip Viewer

There are controls for playback and stepping frame by frame. A position slider allows random access to any point in the video.
Digital Zoom and Pan functionality
Control the speed of playback (audio as well as video) and the audio volume.
Use the DiGiCam DVR file format to record to and playback video from the same file simultaneously.
Mark starting and ending points for playback, trimming, or video export.
Webcam Features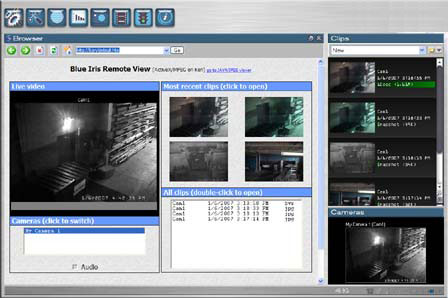 Built-in multithreaded web server; supports authentication.
Broadcast MPEG, a JPEG image stream to a Java client applet, or,
Perform "true" webcasting using leading-edge Windows Media Technologies such as variable and multiple-bitrate encoding (full version).
View all cameras at once remotely
PTZ controls accessible remotely in MPEG broadcast window.
Stream and seek through large clips remotely without downloading the entire file.
Detailed stats window
Use DiGiCam's powerful digital Zoom and Pan functionality remotely!
The default home page allows you to view all of your cameras and captured clips remotely; this page is easily customized.
Integrated "mini-browser" to test your home page
Post images to a remote web server; maintain a ring of images; resize for use on cell phones and PDAs.
Technology Features
Simultaneously use up to 64 video cameras (with full version).
Use USB webcams, DV camcorders, network IP cams (see list below), as well as video servers.
Use generic BT848/878 cards, or we specifically recommend the 8/16-channel Hikvision DS-40xx cards
Overlay text, timestamps, and alpha-blended graphics.
The highly-efficient DiGiCam DVR file format allows time-slip viewing.
DirectX integration provides smooth digital scaling.
DirectShow integration provides optimal capture performance.
Windows Media technologies integration (full version) allows capture into WMV format and Windows Media webcasting.
Multithreaded, optimized and rigorously tested code for optimal performance.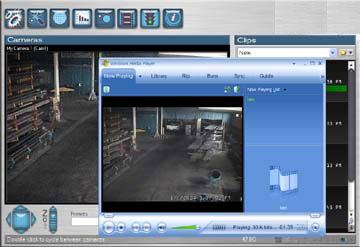 Please note all software purchases are non-refundable. If you are uncertain about compatibility with your IP camera, please contact our support team.
Additional Information
| | |
| --- | --- |
| Warranty | 1 Year |
| Support Information | Free Email Based Technical Support from manufacturer |